Course Content
Total learning:

67 lessons

/ 6 quizzes
Time:

8 hours
Pediatric Heart Failure: "How to approach the management of Pediatric Heart Failure"

Understanding heart failure: the basics in pediatric heart failure and congenital heart diseases. Basics of treatment and decision making in clinic cases

Basic and Advanced Echocardiography in Pediatric Heart Failure

Description of basic and advanced echocardiography tools for diagnostic and follow-up of children affected by heart failure

Pediatric Heart Transplant (I)

Basic in inmunology and rejection. Indications of pediatric heart transplant and contraindications. Mechanical support in pediatric age. Surgery and perioperative treatment.

Pediatric Heart Transplant (II)

Basic of immunosuppression treatment. Management of rejection and infections in pediatric heart transplant. Information for patients and relatives. Outcomes of heart transplant and indications of retransplantation

Final Quizz

Congratulations! You finished the course, check your knowledge with this final test

Fellow Evaluation Course

Evaluation of the cardiac fellows who attended the course in May 2020
Global longitudinal Strain (GLS)
GLS is a simple parameter that expresses longitudinal shortening as a percentage (change in length as a proportion to baseline length).
GLS is derived from speckle tracking, and analyzed by post-processing of apical images of the LV.
Different software from different manufacturers derive GLS differently. However, common features involve view selection, defining end-systole, tracing the myocardium, assessing tracking quality, and integration.
Different aspects of strain can be displayed differently. Waveforms can be used to illustrate contraction delay and temporal dispersion in multiple myocardial segments. Parametric displays can be used to illustrate spatial dispersion through the cardiac cycle.
Because GLS normally varies with age, sex, and LV loading conditions, defining abnormal GLS is not straightforward. However, in adults and children in general, GLS <16% is abnormal, GLS >18% is normal, and GLS 16% to 18% is borderline. (GLS is expressed as a negative number)
Common errors in the assessment of GLS include errors in triggering, and errors in the definition of the region of interest (i.e., in accurately tracking the LV myocardium throughout systole).
GLS could be affected in early phase in case of oncology patients after chemotherapy treatment and in some cases is more sensitive parameter than LVEF. In post-transplant patients GLS is a echo parameter used to rule out rejection.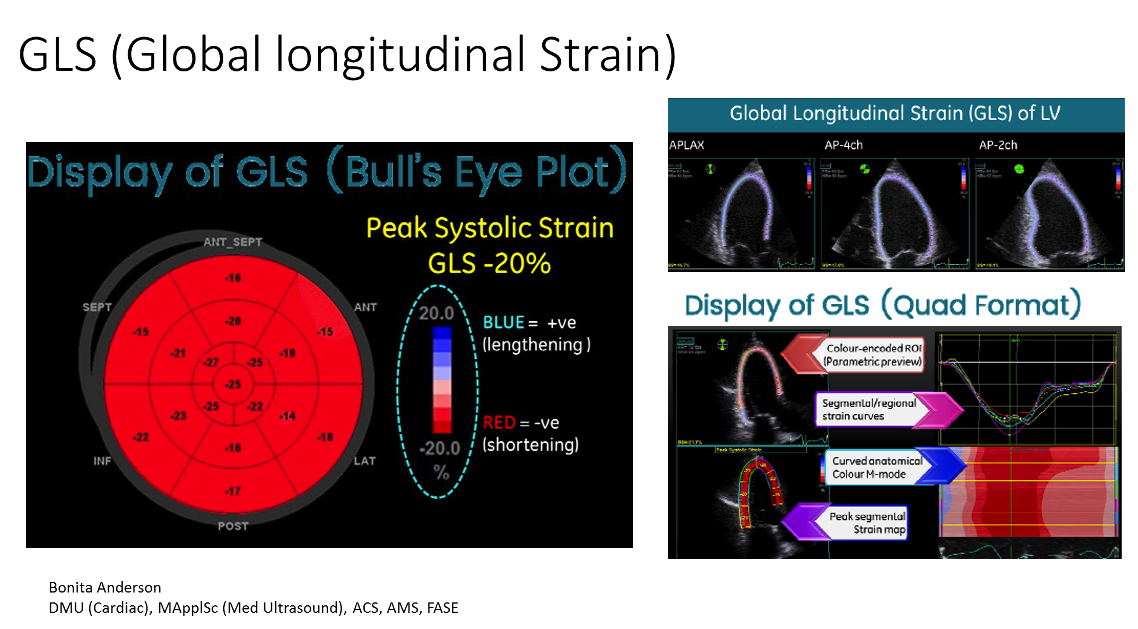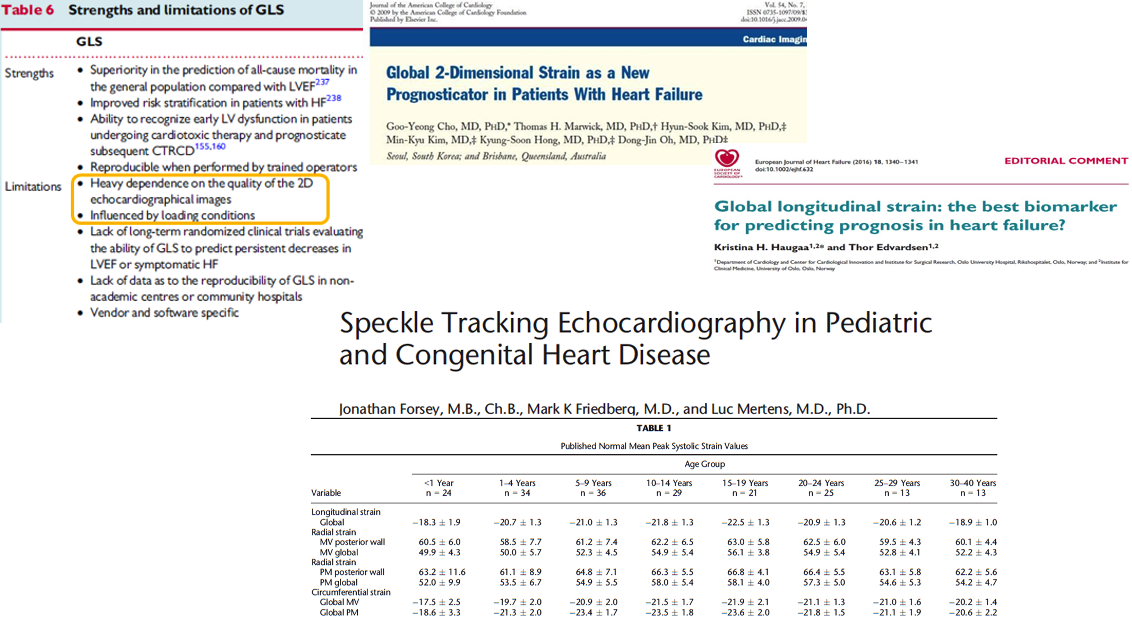 For more information, watch this video: