What would cause chest pain in my child? Could he / she have a heart attack?
If your child experiences chest pain, you may be wondering about the cause. While it could be an issue related to your child's heart (less than 2%), it's more likely another cause, such as a respiratory, muscle, bone joint, gastrointestinal, or mental health condition. It's more likely that chest pain is related to a condition other than the heart, such as a respiratory disease (asthma or respiratory infections). It may also be associated with the heart if your child experiences dizziness or fainting, a changing pulse or blood pressure, or has had a diagnosis of a previous cardiac condition.
Your child may experience chest pain associated with coronary artery disease. Patients with unknown coronary artery disease may present chest pain and usually appears after intense physical activity. Prior heart surgeries, transplants, and conditions such as Kawasaki disease are associated with coronary artery conditions in children.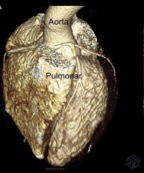 Congenital coronaries anomalies are very rare and in intense activity the lack of supply of blood to the heart provokes the symtomps. If you child has chest pain with exercise and other symtomatology, your pediatrician will require you an appointment with a pediatric cardiologist who will performe some tests such as an EKG, stress test and in some cases a  coronary CT Scan should be done. Coronariography is actually the gold standard test to rule out abnormal coronary defects, consists in angiography in the aortic rood (where coronary arteries arise) and the course and position of right and left coronaries across the heart.
Other heart conditions which may cause heart pain, as viral or bacterial infection. Myocarditis may occur after your child has been sick with a viral infection. Other symptoms include shortness of breath, dizziness, and fainting. Pericarditis can cause sharp chest pain that continues to the left shoulder. It can get worse if you cough, breathe deeply, or lie on your back.
Atherosclerosis is the term used to describe the buildup of fat and cholesterol-filled plaques inside arteries. As the buildup increases, arteries become stiffened and narrowed, which increases the risk of blood clots and heart attacks. It typically takes many years for atherosclerosis to develop. It's unusual for children or teenagers to suffer from it.